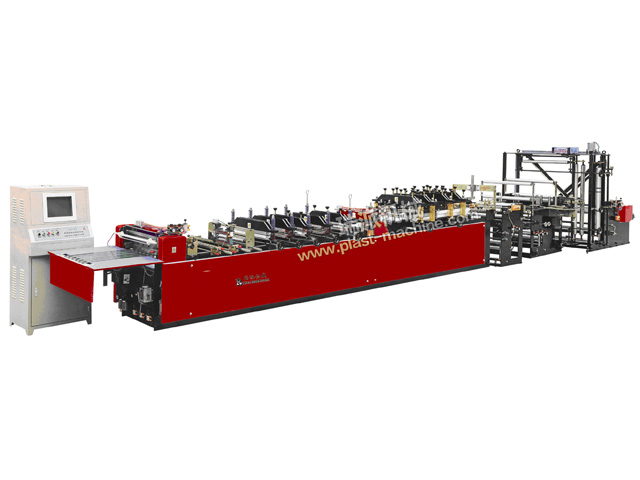 Product Details
Uses and Features
Full-automatic High-speed Three-side sealing bag-making machine and suitable for producing two-layer or multi-layer three-side sealing laminated film bags (bags for food, washing power and sweets etc)which take BOPP, PET, CPP, PE, nylon, aluminum foil and paper as base material. With such characteristics as easy operation, smooth product, stiff and smooth and beautiful appearance,high-strength thermal edge sealing and high bag making speed, it is a kind of ideal equipment for packing and making bags.
Performance and characteristic:
1st, The whole machine adoprs industrial control level computer and auxiliary three-servo control. System.
2ed,All the parameters adopt CRT real time display.The bag-making speed, bag-making length, temperature, counting, punching and conveyor quantity of doubling finished product ,etc.can be preset.
3th,Releasing tension can be controlled by full-automatic adjustable magnetic powder constant tension control system.
4th,Automatic deviation-rectifying, double photo electric tracking.
5th,LPC automatic deviation-rectifying, double photoelectric tracking.
6th,New type pressure-lifting six time conveying function.
7th,Computer 16 group PID constant temperature control.
8th,Pneumatic multi-functional punching, automatic collecting of cut rim charge, electrostatic elimination.
9th, Technology of double self-standing bag, double concave-convex buckle device is in the lead at home,which can truly make bags by one machine with multiple functions.
Technical parameter:
| | | |
| --- | --- | --- |
| Type | TSS-500 | TSS-600 |
| Max. Diameter of roll material | 600mm | 600mm |
| Max.width of roll material | 1040mm | 1240mm |
| bag size width | 60to500mm | 60to600mm |
| bag size length | 30to500mm(Ultra long delivers with time) | 30to500mm(Ultra long delivers with time) |
| Max. feeding speed | Approximately 36m/min | approximately 36m/min |
| bag-making capability | 30-150Section/min | 30-150Section/min |
| Temperature control | Normal temperature to 3600C | Normal temperature to 3600C |
| Total power | 32kw | 35kw |
| gas resource | 0.6mPa(6kg/cm2 ) | 0.6mPa(6kg/cm2 ) |
| Cooling water | 5L/min | 5L/min |
| Machine weight | 5500kg | 6000kg |
| outline diameter | L11505*W2300*H1865mm | L11505*W2400*H1865mm |
Make an Inquiry
If you have any enquiry about quotation or cooperation, please feel free to email us at
vivey@plast-machine.com
or use the following enquiry form. Our sales representative will contact you within 24 hours. Thank you for your interest in our products.