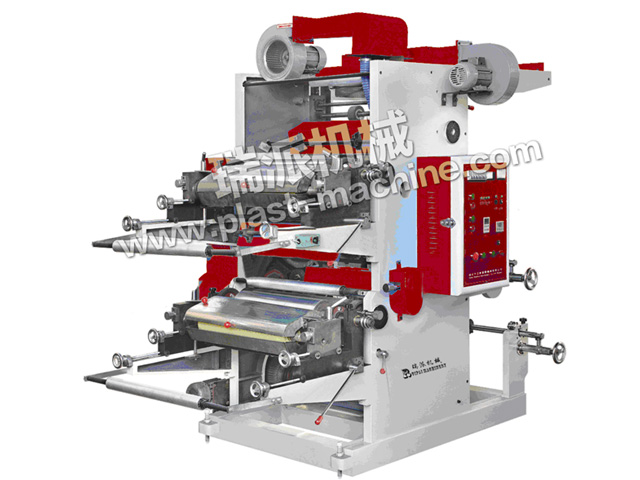 Product Details
YT Series Double-color Flexography Printing Machine
Application: Introduce sensitization resin as flexible printing plate, suitable for printing
such packing materials as polyethylene, polypropylene bag, cellophane and roll paper,
etc. It is a kind of ideal printing equipment for producing paper packing bag for food,
supermarket handbag, vest bag and clothes bag, etc.
Performance and Features:
1. Easy operation, flexible starting, accurate color register.
2. The meter counter can set printing quantity according to the requirements. Stop the machine automatically at the quantity or when the material is cut off.
3. Pneumatic printing cylinder lift and lower, it will stir the printing ink automatically after lifting.
4. The printing ink is spread by the anilox cylinder with even ink color.
5. Reliable drying system coordinated with high-speed rotation, it will automatically break circuit when the machine stops.
6.360°continuous and adjustable longitudinal register device.
7. The frequency control of motor speed adapts to different printing speeds.
8. There are Jogging/Stopping buttons on the plate roller base and material rolling rack so as to make it easy operate the machine when the plate is installed.
Main technical parameter
| | | | |
| --- | --- | --- | --- |
| Type | YT-2600 | YT-2800 | YT-21000 |
| Max. Web Width | 600mm | 800mm | 1000mm |
| Max. Effective Printing Width | 560mm | 760mm | 960mm |
| Range of Repeat Printing Length | 191~914mm | 191~914mm | 191~914mm |
| Max. Diameter of Roll Material | ф450mm | ф450mm | ф450mm |
| Printing Speed | 5~50m/min | 5~50m/min | 5~50m/min |
| Plate Thickness(Both side adhesive tape included) | 2.38mm | 2.38mm | 2.38mm |
| Total Power | 10.7Kw | 12.5Kw | 14.37Kw |
| Overall Dimension | 2300×1860×2145mm | 2300×2060×2145mm | 2300×2260×2145mm |
Make an Inquiry
If you have any enquiry about quotation or cooperation, please feel free to email us at
vivey@plast-machine.com
or use the following enquiry form. Our sales representative will contact you within 24 hours. Thank you for your interest in our products.