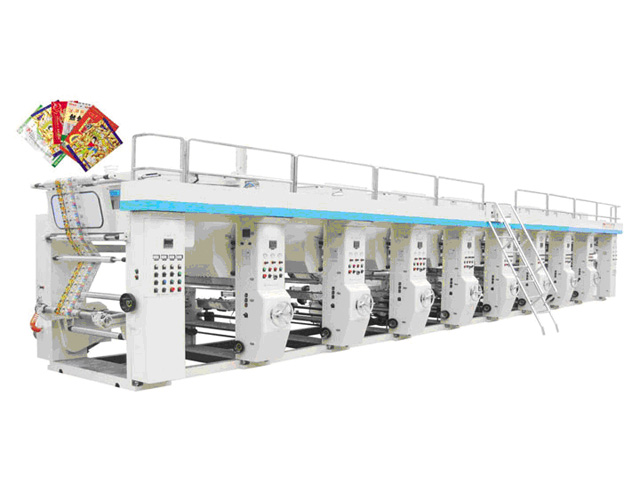 Product Details
1. It's suitable for BOPP, PET, PVC, PE and combined film and paper with the same properties, its printing speed is 60-80m/min, while the mechanical speed is 80/min.
2. The main motor adopts frequency inverter to adjust the speed.
3. The receiving and feeding adopts air shaft, and it adopts reversal dual station manually to finish feeding and receiving materials without stopping the machine.
4. The material feeding shelf adopts magnetic powder tension control. the traction tension of material feeding adopts domestic automatic tension, the receiving adopt moment motor, equipped with the light box device.
5. The pressing roller and traction pressing roller adopts dual air cylinder.
6. The scraper adopts dual cylinder, moves horizontally, and adopts motor rotation to make the cam move.
7. The vertical registration adopts clutch. The manual horizontal adjustment scope is 30mm.
8. The oven has dual fans installed on the board and the air-circulation and heat-recycle device. The electric quartz tubes are installed averagely in each group of ovens at their blowing mouth to heat the temperature is controlled by intelligent thermo-controller. Every top oven adopts centrifugal fan to cool the film to assure the cooling of film. Performance: save electric power.
9. The material protecting roller is of high precision. With its surface processed specially, and the roller can be adjusted horizontally.
10. The chassis adopts combined type to increase the stability of the machine.
The technical basis on 6 color
| | | | |
| --- | --- | --- | --- |
| Type | AY600B | AY800B | AY1100B |
| Printing Width | 600mm | 800mm | 1100mm |
| Printing Length | 240-850mm | 240-850mm | 240-850mm |
| Max.Printing Speed | 80m/min | 80m/min | 80m/min |
| Format Precision | 0.2mm | 0.2mm | 0.2mm |
| Total Power | 41kw | 52kw | 61kw |
| Printing cylinder diameter | 90-300mm | 90-300mm | 90-300mm |
| Rolling material Dia | 600mm | 600mm | 600mm |
| Overall Dimension | 9300x2150x2500 | 9300x2350x2500 | 9300x2650x2500 |
| Weight | 5300kgs | 5800kgs | 6300kgs |
Make an Inquiry
If you have any enquiry about quotation or cooperation, please feel free to email us at
vivey@plast-machine.com
or use the following enquiry form. Our sales representative will contact you within 24 hours. Thank you for your interest in our products.