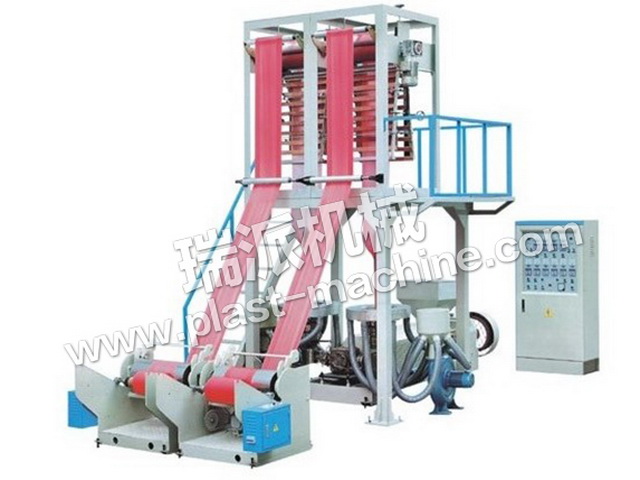 Product Details
Uses and Features
The cylinders and screw rods of extruders are all made from high-quality alloy steel through nitriding and precision machining, ensuring optimal harness and corrosion resistance. The machine unit is provided with one set of extruders and two pairs of machine heads according to scientific design, has the advantages of improving productivity and saving energy, labor force and factories, and is used to blow low-density polyethylene (LDPE) and high-density polyethylene (HDPE) plastic films. The plastic films can be made into various vest bags and flat bags widely used in packaging for food, apparel, textiles and industry.
Main Technical Variables :

Model
SJ-55/FM-500
SJ-55/FM-600
SJ-60/FM-700
SJ-65/FM-800
Screw diameter(mm)
55mm
55mm
60mm
65mm
Screw L/D Ratio
L/D28:1
L/D28:1
L/D28:1
L/D28:1
Screw rotation
10-110r/min
10-110r/min
10-110r/min
10-110r/min
Power of main motor
15kw
15kw
18.5kw
22kw
Max.Extrude Output
46kg/h
46kg/h
70kg/h
70kg/h
Single-face Thickess of film
0.008-0.10mm
0.008-0.10mm
0.008-0.10mm
0.008-0.10mm
Max Film Folding Dia.
400mm×2
500mm×2
600mm×2
600mm×2
Total Power
26kw
26kw
30kw
40kw
Machine of weight
2700kg
2800kg
3200kg
3600kg
Overall Dimension(L×W×H)
4800×2000×3000mm
4800×2200×3000mm
5000×2400×3200mm
5000×2600×4200mm
Design and specifications are subject to change without notice.
Make an Inquiry
If you have any enquiry about quotation or cooperation, please feel free to email us at
vivey@plast-machine.com
or use the following enquiry form. Our sales representative will contact you within 24 hours. Thank you for your interest in our products.